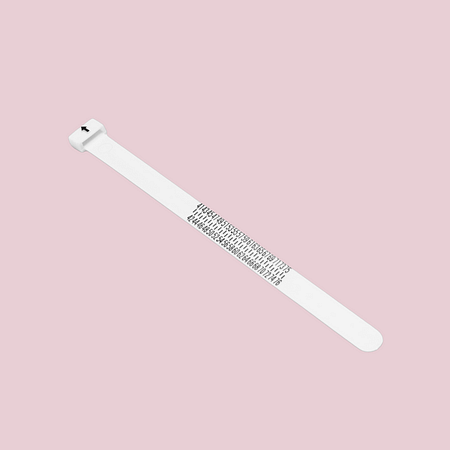 The Ringsizer
Not sure about your ring size? You can order our Ringsizer! This way you can easily measure your fingers to find out which size you need. Shipping of the Ringsizer is free or charge within The Netherlands and Belgium.
Custom resizing
Fell in love with a ring in our shop, but it hasn't got the right size? You can add our resizing service to your order. We will custom resize the ring for you. This is possible up to two (European) sizes smaller or larger.
Measure your ring size
There are two ways to find out your ring size yourself. Although the Ringsizer is a more accurate option, just like visiting a jeweler, you can easily use these tricks at home.

Option 1: Measure your ring
Do you have a ring that fits you? Place it on a ruler and read the inner diameter (mm). This is your ring size! There are also mobile apps available, such as the ring sizer app. With this app you can place your ring on the screen and adjust the image until it exactly matches your ring.

Option 2: Measure your finger
Wrap a piece of string or paper around the finger where you want to wear the ring. Not too loose and not too tight. Mark it at the point of overlapping. Place the string along a ruler and read the length (mm). You can convert the circumference to diameters with the ringsize chart.